DIE HARD and BRUCE WILLIS
Bruce Willi stars as New York City Detective John McClane, newly arrived in Los Angeles to spend the Christmas holiday with his estranged wife (Bonnie Bedelia). But as Mclane waits for his wife's office party to break up, terrorist take control of the building. While the terrorist leader, Hans gruber (Alexander Godunov) round up hostages, McClane slips away unnoticed. Armed with only a service revolver and his cunning, McClane launches his own one-man war. A crackling thriller from beginning to end, Die Hard explodes with heart-stopping suspense.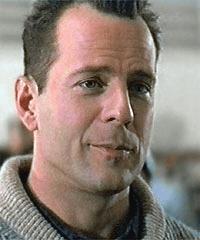 Bruce Willis
United States, 1988
Running Length: 2:11
MPAA Classification: R (Extreme violence, profanity, brief nudity)
Theatrical Aspect Ratio: 2.35:1
Cast: Bruce Willis, Alan Rickman, Bonnie Bedelia, Alexander Godunov, Reginald Veljohnson
Director: John McTiernan
Producers: Lawrence Gordon and Joel Silver
Screenplay: Jeb Stuart and Steven E. de Souza based on the novel by Roderick Thorp
Cinematography: Jan De Bont
Music: Michael Kamen
U.S. Distributor: 20th Century Fox
_________________
http://www.esm3.com/music/eg/roobi/enta-3aref-leeh.rm
Super Star





Number of posts

: 1163


Age

: 52


Location

: Egypt


Job/hobbies

: Composing


Registration date :

2008-03-26



Die Hard represents the class of modern action pictures and the standard by which they must be judged. Few films falling into the "mindless entertainment" genre have as much going for them as this movie. Not only is it a thrill-a-minute ride, but it has one of the best film villains in recent memory, a hero everyone can relate to, dialogue that crackles with wit, and a lot of very impressive pyrotechnics.



John McClane (Bruce Willis) had intended to spend a nice, quiet Christmas with his wife Holly (Bonnie Bedelia) and children, ironing out his marital problems and trying to resolve the situation that has him working in New York City as a cop while her career keeps her in Los Angeles. Unfortunately for John, a group of terrorists, led by the suave Hans Gruber (Alan Rickman), has other ideas. After taking over the high rise Nakatomi Tower and holding the attendees of the Christmas party (including Holly) hostage, they begin the time-consuming and complex procedure of breaking into the building's vault. However, one thing -- perhaps the only thing -- that Hans didn't plan on was John McClane, the self-professed "fly in the ointment," who is on the loose inside, and whose goals are in direct contradiction with those of the terrorists.



With Die Hard, director John McTiernan (Predator) has given us a modern action classic -- a movie that doesn't slow down until the end credits are rolling to the tune of "Let It Snow." McTiernan is a master of pacing, and on those few occasions when the script lets him down, the camerawork of Jan De Bont comes to the rescue. This film is explosive in more ways than one -- a lavish, noisy extravaganza that gets the adrenaline flowing.
_________________
http://www.esm3.com/music/eg/roobi/enta-3aref-leeh.rm
Super Star





Number of posts

: 1163


Age

: 52


Location

: Egypt


Job/hobbies

: Composing


Registration date :

2008-03-26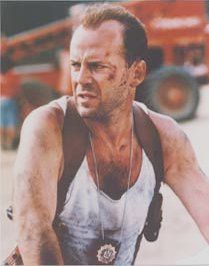 Bruce WIllis as John McClane
Also Known As:
Piege de cristal
Production Status:
Released
Genres:
Action/Adventure and Thriller
Running Time:
2 hrs. 7 min.
MPAA Rating:
R
Distributors:
20th Century Fox
Production Co.:
Gordon Company Productions, Silver Pictures
U.S. Box Office:
$80,707,729
Filming Locations:
Los Angeles, California, USA
Produced in:
United States
Bruce Willis is perfect as the wisecracking John McClane, an "everyday" sort of guy who gets caught up in circumstances that force him to play the reluctant hero. This is a person that we can root for, even when some of the things he's doing are humanly impossible. Willis' acting skills are limited (although he did fine work playing a Vietnam Vet in In Country), but it's hard to imagine anyone else in this role.
Alan Rickman's Hans Gruber redefines the action genre villain. The man's charm lies in that volatile mixture of violence and cunning, all sheathed in a gentlemanly civility. Hans is intelligent, and Rickman plays the part with not only a sense of the man he's portraying, but an obvious respect for him as well. It doesn't take many minutes of screen time for us to be aware that Hans is no ordinary terrorist.
_________________
http://www.esm3.com/music/eg/roobi/enta-3aref-leeh.rm
Super Star





Number of posts

: 1163


Age

: 52


Location

: Egypt


Job/hobbies

: Composing


Registration date :

2008-03-26



_________________
http://www.esm3.com/music/eg/roobi/enta-3aref-leeh.rm
Super Star





Number of posts

: 1163


Age

: 52


Location

: Egypt


Job/hobbies

: Composing


Registration date :

2008-03-26



_________________
http://www.esm3.com/music/eg/roobi/enta-3aref-leeh.rm
Super Star





Number of posts

: 1163


Age

: 52


Location

: Egypt


Job/hobbies

: Composing


Registration date :

2008-03-26



_________________
http://www.esm3.com/music/eg/roobi/enta-3aref-leeh.rm
Super Star





Number of posts

: 1163


Age

: 52


Location

: Egypt


Job/hobbies

: Composing


Registration date :

2008-03-26



_________________
http://www.esm3.com/music/eg/roobi/enta-3aref-leeh.rm
Super Star





Number of posts

: 1163


Age

: 52


Location

: Egypt


Job/hobbies

: Composing


Registration date :

2008-03-26





Similar topics
---
Permissions in this forum:
You
cannot
reply to topics in this forum